The Saffron, Restaurant in the Westin Hamburg Hotel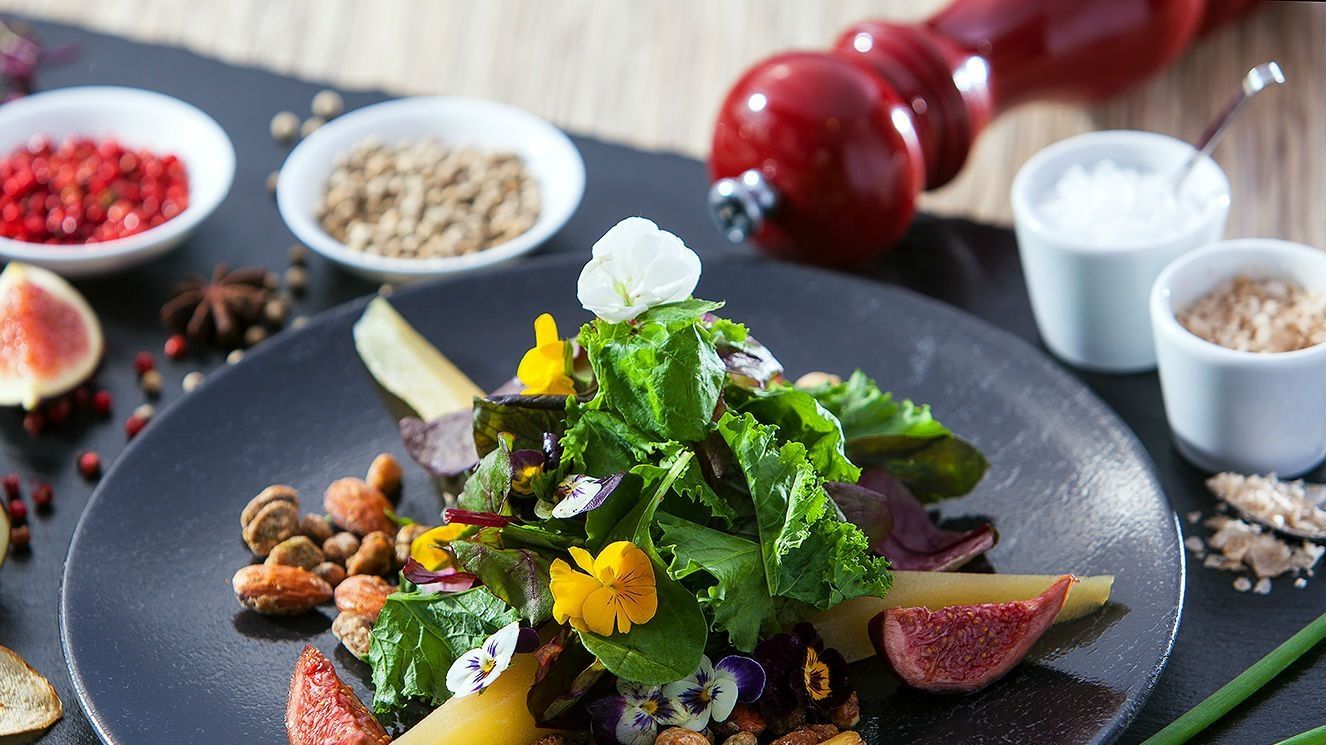 Superfoods salad with fresh ingredients
The Saffron Restaurant in the Westin Hamburg
Monday - Thursday

17:30 pm – 22:30 pm

Friday / Saturday

17:30 pm – 23:00 pm

Sunday

17:30 pm – 22:30 pm
The Saffron – a culinary homage to the setting
Restaurant in the Westin Hamburg
Where cocoa, coffee, tea and spices were stored on about 19,000 square meters almost 150 years ago, the team of the restaurant The Saffron serves to locals as well as guests of the Westin Hamburg extraordinary moments of enjoyment.
The head chef Martin Kirchgasser combines fresh, Hanseatic products with influences from all over the world. Bright red saffron, golden mustard powder or the scent of black pepper, cinnamon and cloves, notes of cardamom, fiery chili or exotic lemon grass – The Saffron is home to a rich array of aromas to enchant the noses and palates of the guests. New flavors arise - nuanced and balanced - but at the same time aromatic and intense. Each bite makes you want more. Selected wines complete the delicious compositions of our chef and his team.
Please understand that our restaurant enjoys a high popularity. We recommend a previous reservation. In the short term no availability can be guaranteed without reservation.
For reservations please contact us -
via E-mail: Restaurant.TheWestinHamburg@Westin.com
via Telephone: +49(0) 40 8000 - 10 3117
Dear guests,
we are delighted to welcome you at our Restaurant "The Saffron".
Please join us on a culinary journey…
Enjoy the taste of fresh and regional products fine-tuned with noble spices and flavors from all over the world. Selected wines complete the delicious compositions of our chef Martin Kirchgasser.
As the gateway to the world, directly from the historic "Kaispeicher" of the Elbphilharmonie, we offer you an exquisite range of dishes. We hope you enjoy your meal and wish you a pleasant stay at our hotel.
Sincerely,
Your Restaurant Team
Categories
Local Experiences
Restaurants Experiences
Applied Filters
Local Experiences
Restaurants Experiences
Jun 16
June 16 - September 2, 2018
7:30 pm - 10:30 pm
June 16 - September 2, 2018
7:30 pm - 10:30 pm
Location:

Platz der Deutschen Einheit 2
Hamburg, HH, DE
Sep 15
September 15 - September 16, 2018
8:00 pm - 1:00 am
September 15 - September 16, 2018
8:00 pm - 1:00 am
Location: Platz der Deutschen Einheit 2
Hamburg, HH, DE
Gallery
Albums
The Saffron
The Bridge Bar